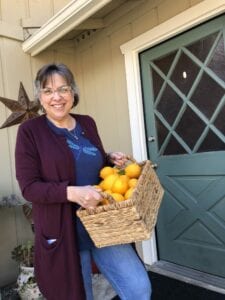 I wanted to tell you about my cool experience last week!
Last weekend, before the "shelter at home"  I had written down in my prayer journal
that I wanted wisdom to know what opportunities I could be a part of in my neighborhood to serve to during the virus crisis and the decisiveness to actually do it. I just didn't know what I could do.
I woke Tuesday morning thinking about the Old Testament story of the widow who was in crisis and not sure what to do. Elisha asked her "What do you have?" Well, she had some oil. So, you know the story…
She started with what she had and God blessed that.
I woke Tuesday morning thinking… what do I have? I have 2 lemon trees with an over abundance of lemons! So, I picked a big basket and enlisted the help of a very active 5 year old grandson. Along with some hastily written out 3×5 cards with our name/address/phone number,  we went house to house knocking on doors.
I introduced myself and offered everyone lemons and told them we were available if they might need something. I also may have said several times…"I'm not a WACKO… but I love Jesus and I talk to him every day. I would be happy to pray for you." (That is probably not what they teach you in Evangelism 101) But guess what? No one shut the door in my face. No one yelled at me or insisted I get off their property. Maybe it was the lemons. Maybe it was the cute 5 year old with me. Maybe it was the tense uncertainty that this past week has brought to everyone's heart and has made people pause and reflect more. I don't know. But I do know I went to 12 houses and was able to pray with 2 people. I got to meet my neighbors and in a small way make a connection I had not done before. Did I feel like a crazy woman standing there with a basket of lemons and a 5 year old incessantly chattering and jumping around? Yes, yes I did.
  It was so worth it.