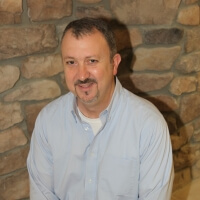 Shawn Penn, Lead Pastor
work: 805-239-4771
Email: shawn@pasochurch.com
Each week, Shawn passionately leads Paso Robles Community Church to discover more about God and in doing so they always discover more about themselves (funny how it never works the other way around). He likes to communicate the word of God in a very practical what-you-see-is-what-you-get style relating to both the young and old.
Early Years
Shawn was born in a little town in Oregon called Nyssa. At six months of age, his parents moved to Boise, Idaho where he lived until leaving for college. Shawn is the fifth of seven children. He loved growing up in a large family.
Personal Faith
When Shawn was six years old, he prayed a prayer of salvation during a Vacation Bible School, but it wasn't until he was 18 during a Christian summer camp that he fully surrendered his life to the Lordship of Jesus Christ. Little did he know then that this decision would guide the rest of his life.
New Beginnings
Initially, Shawn considered going into electrical engineering, but opted to study at Corban University in Oregon where he met his wife, Cindy. After moving on to New Jersey at Princeton Theological Seminary, Shawn was determined to focus on finishing his degree in college and pursue God's calling.
Love and Family
Shawn and Cindy recently celebrated their 25 wedding anniversary. Cindy is his best friend and partner in adventure. She makes everything they do more fun. Today their four kids are young adults. Their eldest is our daughter, Katie, who's 23 followed by their son, Brandon, who's 22; then Tyler who's a Senior at Paso High (he'll soon be 18) and Madecyn is their 16 year-old Sophomore at Paso High.
In his free time, Shawn enjoys spending time with his wife and family. When they take a day off to renew themselves, he and his wife love to take long hikes in the hills around the Central Coast, or kayaking in Morro Bay. He also enjoys playing basketball with his son or board games with his family. They usually wrap up the evening with a nice dinner and a movie or a good book.