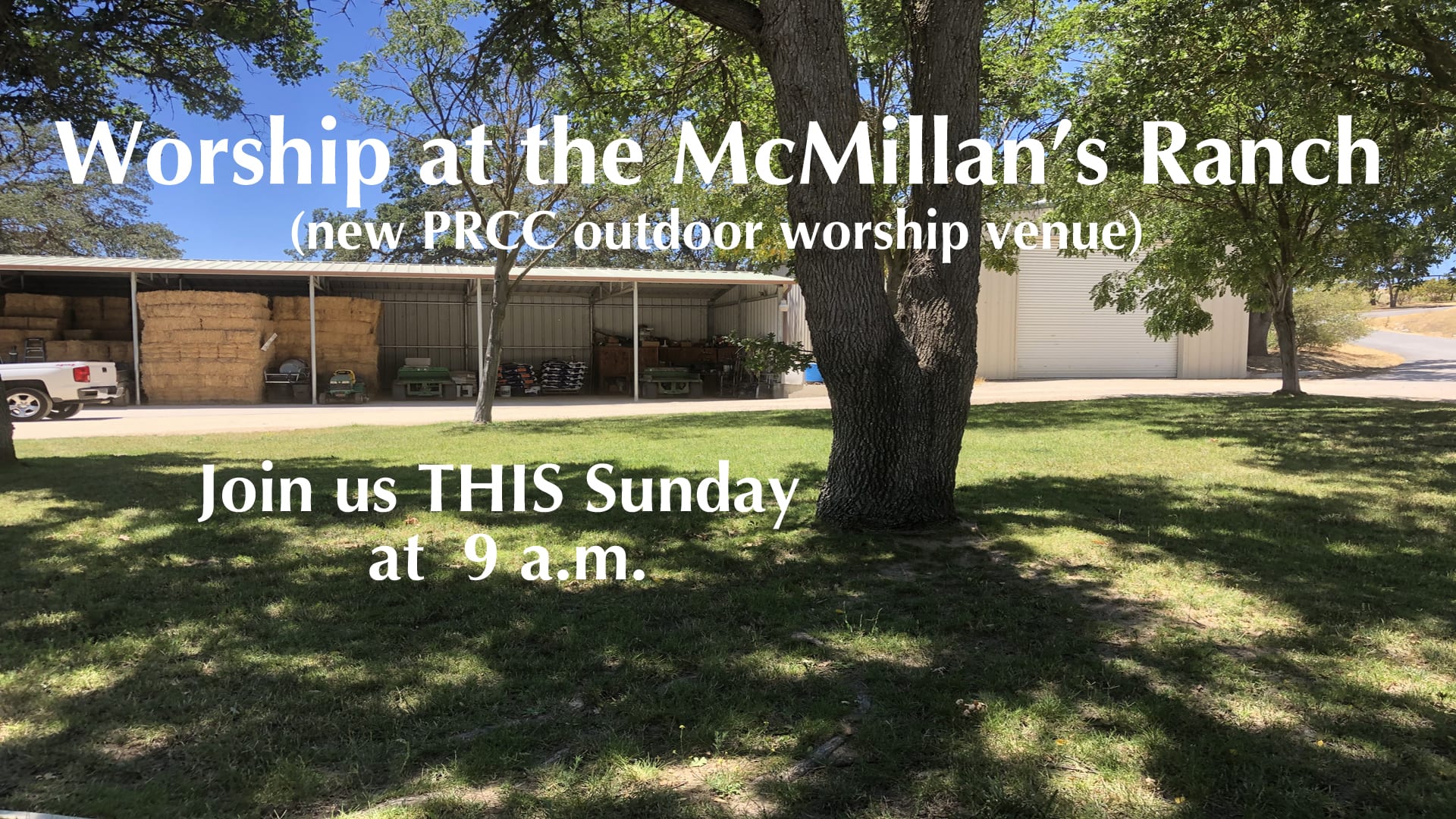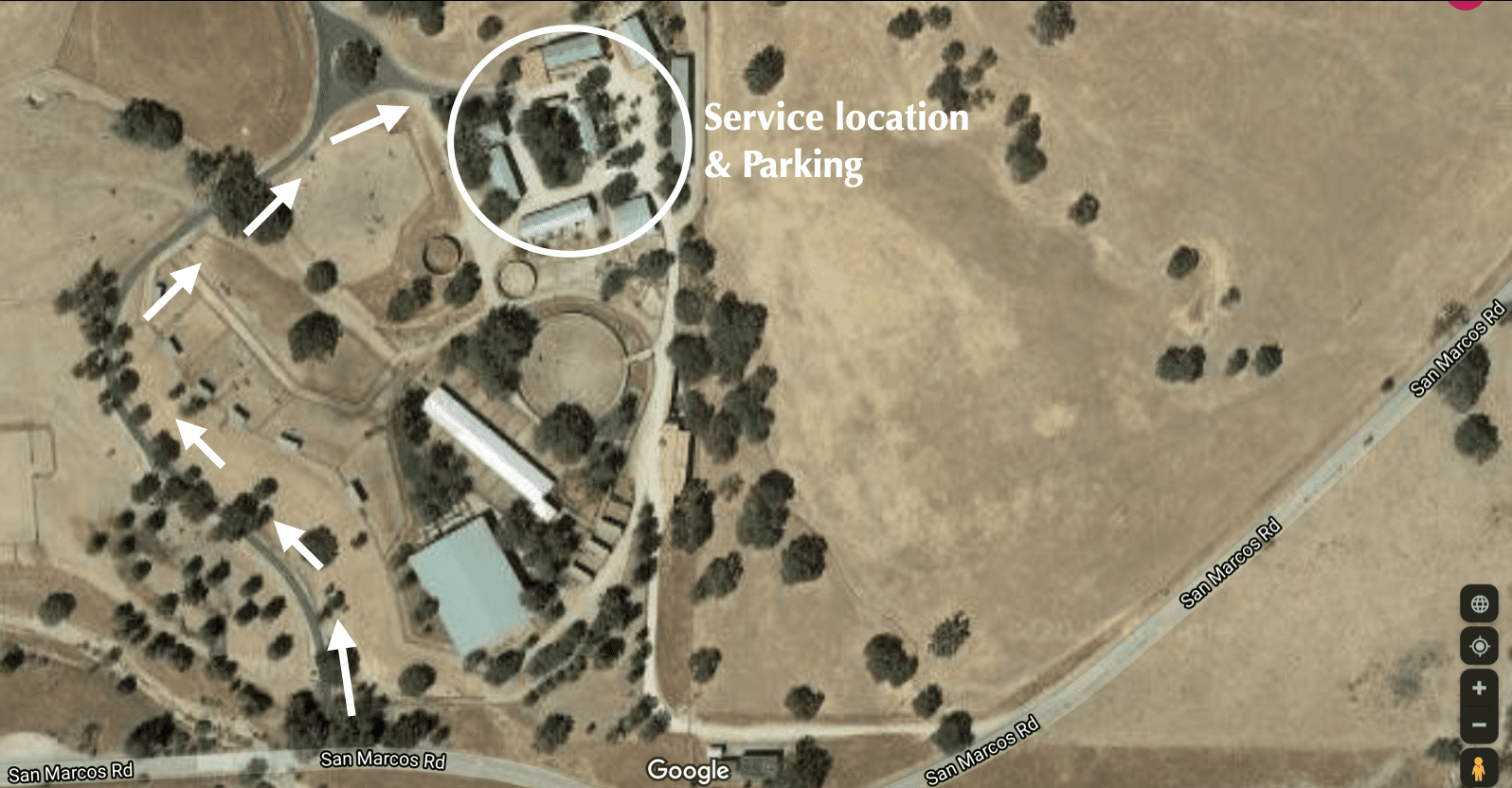 McMillan Ranch is located at 1142 San Marcos Rd in San Miguel.
Directions:
1) Take Hwy 101 north toward San Miguel.
2) Turn left (across 101) onto San Marcos Road (look for the signs for San Marcos Road).
3) Follow San Marcos Rd for approx. 1.9 miles to Ranch entrance on your right.
4) Pull onto property, pass through gate, and then follow the road and the signs up the hill to designated parking!
CAUTION: Do not attempt to take Wellsona Rd to access San Marcos Rd. Some mapping services may direct you to Wellsona, but disregard this and stay on Hwy 101 until you reach San Marcos Rd!
McMillan Ranch "Do's & Don'ts"
Do Come Worship.
Do Bring your Bible.
Do Invite Others.
Do Bring your own Chair.
Do Bring your own drink.
Do park in designated areas only.
Don't approach the livestock (this is a working ranch not a petting zoo).
Don't Expect Church Coffee.
We are meeting at, what we're affectionately calling "The Ranch," every Sunday morning for worship.
For those unable to attend in person, we will also stream this service live, online. Children are welcome at the service, we just ask they remain with their family; if you bring your child, we'll have an activity sheet for them!
Service Time: 10 am!
Because we are outdoor for worship, there will be NO:
restrictions on the number of worshipers

restricted or designated pathway for entry or exiting from worship service.
We recommend that all worshipers provide their own:
PPE's & face masks

sanitizer,

lawn chair, and

shade if desired.
We recommend that all worshipers observe appropriate social-distancing.
We strongly encourage you to consider staying home if you belong to the "vulnerable population" (over 65 or have pre-existing/compromised health issues).
Anyone with a fever or COVID-19 symptoms should stay home.
If/When we distribute materials (song-sheets, stickers, etc.) which requires a PRCC team-member to cross the 6′ social distance, these materials will be handed out by a PRCC team member wearing mask and gloves.
We will provide color-coded stickers that will allow worshipers to communicate their social-distance preference non-verbally (see the chart below).
Since PRCC is such a "high-touch" faith community, we are NOT endorsing nor condoning violating social-distancing guidelines, rather we are offering those who want to worship while practicing safe, social distancing, a way to do that without having to repeatedly tell people "please, don't touch."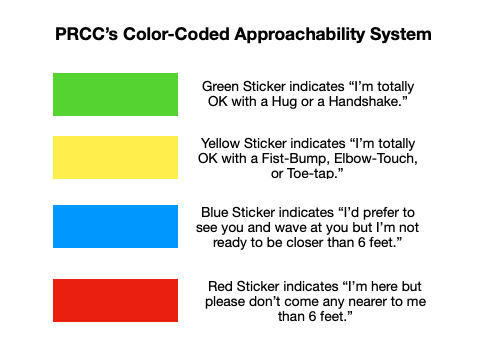 PRCC will continue to practice singing as our expression of worship. For those comfortable playing or singing on the worship team without masks, we will allow them to remove their masks. We WILL create a 6 foot social distance between band members and a 10-15 foot social distance between band and congregation.