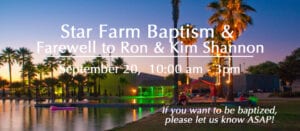 Coming Sunday, September 20, we will be having our 8th Annual Baptism and Celebration at Star Farms in San Miguel!
This is an incredible day of worship followed by baptisms in the Star Farm "Lake".
Following the service, lunch will be provided and will include tri-tip, beans, bread, salad, dessert, and drinks. Unlike previous years, this will NOT be self-serve potluck. We have the honor of serving you this year! All we ask is you let us know ASAP if you're coming and how many will be joining you!!
Please RSVP to the church office:
805.239.4771
Also, due to Covid-19 restrictions, we are postponing our Annual Volleyball Tournament but we will have swimming, horseshoe, corn-hole, and ladder-ball available for family fun!
In addition to all this fun, we will be saying "good-bye" to Ron & Kim Shannon; pillars of PRCC for nearly 30 years! Please be sure to join us and help us say "Thank You" and "God's favor be upon you!!"
This will be an amazing day to celebrate with those who are making their relationship with Jesus public and express our gratitude for the influence of Ron & Kim Shannon in our lives!
If you'd like to be baptized, please contact the church office at 805.239.4771 or office@pasochurch.com.