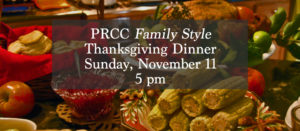 Sunday, November 11 at 5pm, join the PRCC family for a "potluck-family-style" Thanksgiving Dinner.
This is a fun, family time of celebrating and giving thanks for God's goodness! It's a great time to get to know others in the PRCC family!
This is a "potluck" so to ensure there is food, we are asking that everyone bring enough food for their family plus ten more people. If you're not sure what to bring, there are sign-ups and menu recommendations in Coffee Shop. 
In addition to dinner, there will be a time of sharing and giving thanks (so be thinking now about what you can thank God for during this last year) and if time permits, we'll even watch a little Sunday Night Football!