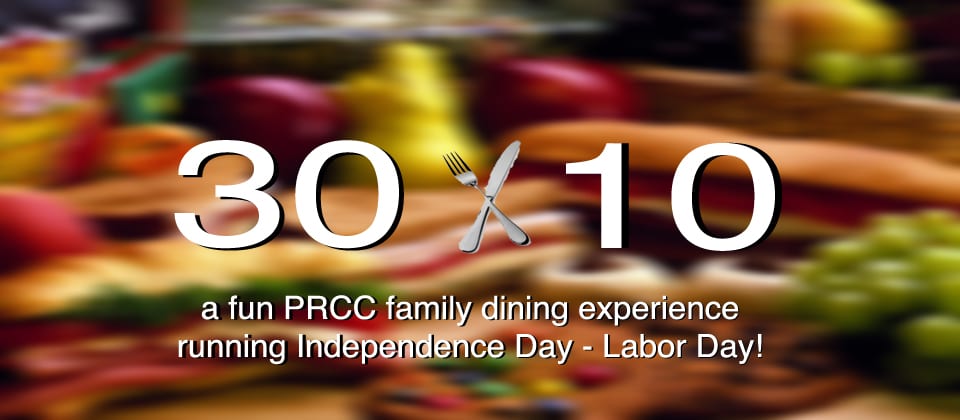 Join us this Summer as PRCC hosts 30 dinner parties over 10 weeks. This is a great opportunity to get to know our church community in an intimate and relaxed way: over a meal in someone's home. Spots will fill up fast so make sure to RSVP in advance!
FAQ's for 30x10
"What is 30x10?"
30x10 is a series of 30 hosted meals over 10 consecutive weeks this summer (July 4 – September 5), within the homes of people in our church community. While themes and menus change, what they all have in common is that they provide a chance to get to know people in a more intimate setting.
"Who can attend 30x10s?"
30x10s are open for everyone to attend… you just need to RSVP to the host in advance. We encourage hosts to reach out to newer folks in our community and to people they haven't yet had the opportunity to get to know.
"I don't have a big place, should I still host a 30×10?"
YES. 30x10s are not about having the perfect space to host or the perfect menu. All you need for a successful 30×10 is a willingness to open up your home, share a meal, and connect with others.
"I don't really have that much money…but I'd like to host. Can I still participate?"
Absolutely! 30x10s are about people coming together and getting to know each other over a meal, not about being fancy. There are lots of wallet-friendly hosting ideas, such as a grilled cheese/tomato soup dinner, chili & cornbread, casseroles, pasta dishes… and you can also have a potluck and ask others to contribute to the meal! Creativity is encouraged.
"I love cooking but I don't have a place to host… can I still get involved?"
No problem! Just contact us and we'll team you up with someone who could use your gift of cooking.
"I have a place, but I don't really do the cooking thing…"
Again, no problem. We have lots of folks with talent in the kitchen waiting to help you!
"Ok, I signed up to host, now what?"
We will invite folks to sign up for 30×10 dinners every Sunday between May 26 – June 30 and we will have the calendar posted on the website so folks can see the details of your dinner and RSVP to you directly. In addition, we encourage YOU, our hosts, to reach out and invite new people, or people that you'd just like to get to know better, to your dinner. And don't forget to attend other 30x10s as well, it's part of the fun!
Click here to download 30X10-Individual-Dinners-FORM
Still have questions? Contact Church Office at 239.4771 (church office) or office@pasochurch.com.
Date, Time & Location of Meals will be posted here once Hosts have submitted request, so be sure to check back often!!
July Meals
July 24 — 5:30 pm / Tim & Julie Harris (805-610-5819)
August Meals
August 11 — 6pm / Dan & Darlene DeLaVega (805-712-3188)
August 14 — 3pm / Jon & Tricia Blake (805-441-6113)
August 15 — 3pm / Scott & Jill White with Kemi & Antoine Cowans (Jill: 805-712-5559 / Kemi: 805-400-4720)
August 21 — 6pm / Tim & Shannon Bowlin with Harry & Christina Groff (805-286-6682)
August 28 — 3pm / Yolanda Rodriguez (805-406-1760)
August 28 — 5pm / Wade & Penny Osburn (805-441-9236)
September Meals
September 4 — 5 – 7pm / Marcus & Liana Rostro (805-674-4543)
September 11 — 1-5pm / Bill & Janice Pluma (805-423-1272)
September 11 — 5:30-8pm / Richard & Pam Blake (805-801-6411)