Latest "Guidelines" for "Places of Worship"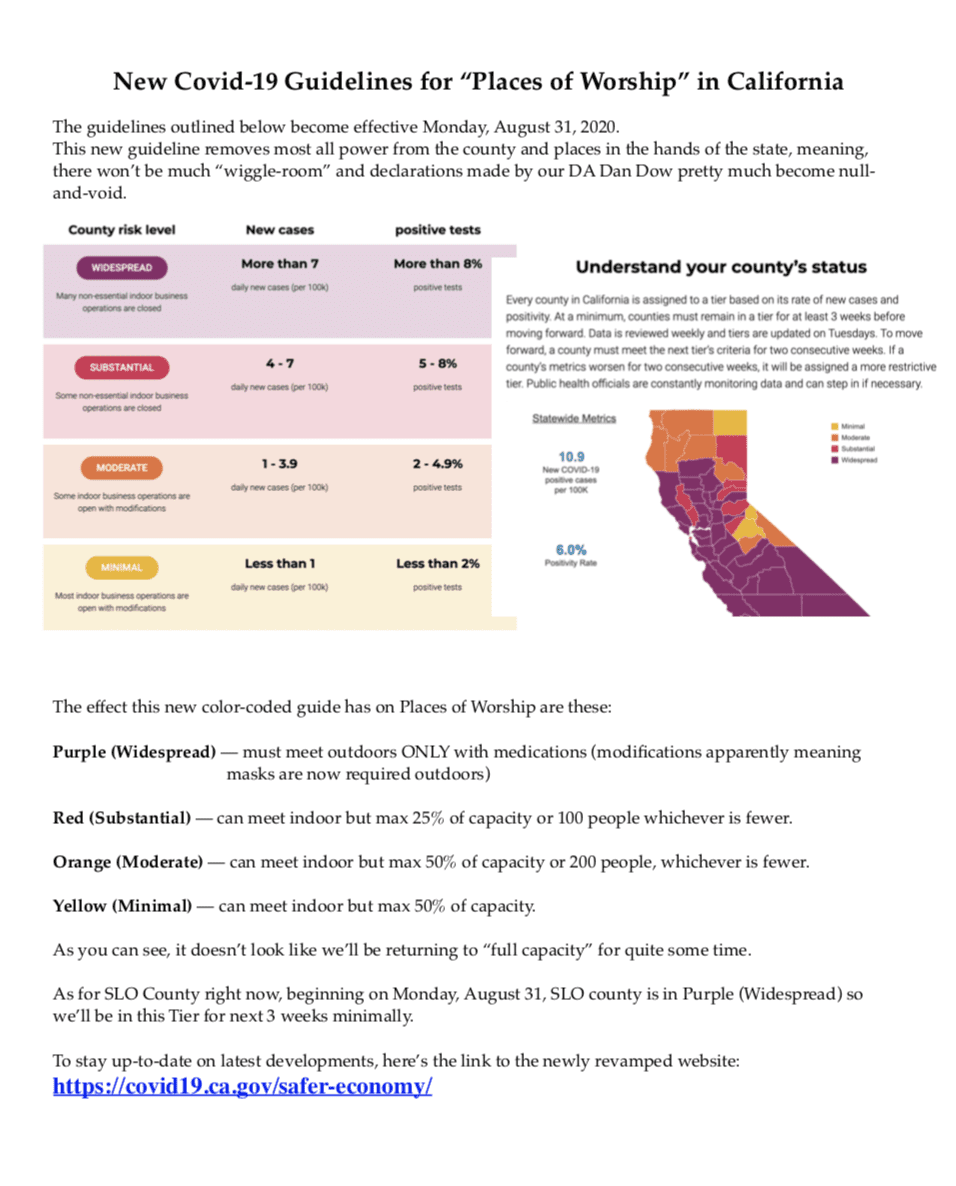 Dan Dow; SLO County District Attorney
"SLO County is a sanctuary county for singing in houses of worship."
"A Day in the Life of. . ."
what a day of "sheltering-at-home" looks like for your family!
Emailed Updates on PRCC's Response to COVID-19
Update: March 25, 2020
God has blessed us with another day of life, let's use it for His glory today!
With so much uncertainty swirling around us because of the Coronavirus and with so much fear created by this uncertainty, it is good for us to remember that our God is alive and in control. As the Psalmist reminds us in Psalm 47:7-9: 
7 For God is the King of all the earth; sing to him a psalm of praise. 8 God reigns over the nations; God is seated on his holy throne. 9 The nobles of the nations assemble. . .for the kings of the earth belong to God; he is greatly exalted.
As the world and our community struggle to deal with this unseen menace, let us continue "as we have opportunity, to do good to all people, especially to those who belong to the family of believers" (Galatians 6:10). 
Here are ways we can continue to love one another:
Participate in PRCC's CARE-Chain. If you haven't started, it's not too late. All we ask is that you pick up your phone, call the family below you in the church directory and check-in with them. The prayer is that Each Family will Reach a Family so that no one is forgotten or alone. At the end of the week, if you could drop a quick email to the church (office@pasochurch.com) to let us know who you called (or if you didn't receive a call) that will help us better assess our span of care.
Join the CARE-Response Team. We are looking for individuals who, when the need arises, will be willing to shop and care for those in need. If interested, please contact Tawni Crose

 

Stock our "Essentials Pantry."

 

When the need arises, wouldn't it be great to have a supply of "essential" products ready for distribution? Things like water, toilet paper, hand sanitizer, soap, or baby wipes could be really helpful. You could collect the supplies and drop by the office Monday-Thursday.

 

(Philippine Support. Our partner ministry "To God Be The Glory" has requested "essential" assistance during this pandemic; they've requested chewable vitamin-C or Emergen C or Airborne and rolled oatmeal. Any help we can send them for supplies or finances would be greatly appreciated!)
Encourage the Family. We would love to hear what God has been saying to you and how you have been responding to His promptings during this pandemic. Take a few minutes and text/email a word of encouragement or video yourself explaining/showing what you're doing and we'd love to post that on the church's website and Facebook page.

 

Be a Group Leader online! We have had a couple groups use the Zoom platform with great success so we are moving forward in developing our online groups using Zoom. The church will own the account but Group Leaders will host the meeting. With this technology, we can gather together while remaining separated. With anxiety running high, just being able to connect with a familiar face and to pray together can be great comfort. So how cool would it be to have one "Zoom-Group" for every 6-10 PRCC Family Members?! This would mean we will need 20-30 Host Leaders. As for content, let's keep it simple. Let's practice "SOAP" or Prayer or discuss Sunday's Sermon using the notes provided. If you are interested in being a Host, please let us know and we will train you ASAP on how to use the Zoom platform!
Continue to Serve. The Coronavirus will never cancel the Great Commandment or the Great Commission! So while normal operations have changed, our primary functions have not. We still need to be looking for ways to serve one another and our community. If you have a great idea on how to better serve, we would love to hear it. To facilitate "virtual" serving and community, we have an increased demand for people interested in technology. Positions available include: more camera operators, video producers, videographers, graphics assistance, and audio engineers to support our online worship. If interested, or know someone with these skills who might be open to serving, please let us know!
Pray. We are only as strong as our dependence upon the Lord. God shows up when we're dependent upon Him. Let's not offend our God by not praying. Let's be praying for one another; for our community leaders; our medical professionals and first responders. Continue to use the 21 Days of Breakthrough Prayer to guide your prayer times (this could be a great "Zoom Group") and continue to send your Prayer Requests to the church (email them directly to office@pasochurch.com) or through the website (pasochurch.com/care/prayer request).
One key way we can all remain connected is by watching and participating in the Sunday services online. We will have two "simulated live" broadcasts at 8:30 and 10:30 am on Sundays. This feed will offer live moderated Chat, Notes, and Bible. 
You may access this feed:
– through our website www.pasochurch.com then clicking on "Watch PRCC Online" 
– directly at www.pasochurch.online.church (we selected this platform because you 
don't need an account [ie Facebook or Google] to watch and participate)
–  www.youtube.com/pasoroblescommunitychurch and selecting the video with Sunday's date. The best way to access our YouTube page is by typing the above link in your web browser (www.youtube.com/pasoroblescommunitychurch); I would not recommend typing youtube.com then searching "paso robles community church" because that is more confusing due to the number of options you will have to sort through.
I realize last Sunday was confusing for some of you because you weren't able to access the feed or if you were, you weren't able to watch the feed. Some of this was due to volume of use; the servers couldn't keep up with the demand. I've been assured this has been fixed. Even with all the confusion, there have been over 400 views of the service with over 300 of those being "unique" views (meaning they weren't the same person watching and rewatching portions of the feed). Thank you all for spreading the word. Let's pray God will use this to turn more hearts toward Him!
Online Giving. We have set up a Venmo Account. For those of you familiar with Venmo, you may access us through the Venmo App by searching for Paso Robles Community Church. We are still working on finalizing a web-based giving platform and we will give you all the details once this is finalized. Until then, feel free to use Venmo or you may always mail the church your giving (P.O. Box 3914, Paso Robles).
I realize this is a lot of information, but I want us to all remain in the loop as best we can. To that end, here is our "Communication Plan":
– weekly Email from PRCC
– weekly Text from PRCC (please let us know if you'd like to receive Text and the
number you want us to use)
– regular updates on www.pasochurch.com 
– regular updates on our Facebook page (facebook.com/pasoroblescommunitychurch).
We would love to hear from you all so remember to update us on CARE-Chain activity and by posting words/actions of encouragement!
Update: March 19, 2020
Bob Dylan sang in the 60's, "the times, they are a changing." Well, that statement is as true and relevant today as ever. We are living in unprecedented times of change. These changes are directly impacting our quality of life and affecting how we gather, even as a church. In accordance with the "Local SLO County Emergency Order and Regulation" we are suspending all meetings and activities at the PRCC building effective as of 5pm Thursday, March 19.  
I believe that as Christ Followers, we are commanded to gather together to spur one another on toward love and good deeds and to do so all the more as we anticipate the return of Jesus (Hebrews 10). If there were no other way for us to gather, we would face a dilemma of who we obey. Thankfully, technology affords us an amazing opportunity to gather and facilitate community and learning while still abiding by the mandates of the County's Emergency Order and Regulation. 
For the foreseeable future, we will be streaming our services online and we're looking at ways to connect online throughout the week. We will let you know the platform we recommend very soon along with how to best utilize it.  
As for our Sunday services, some things have changed. To simplify the process of accessing our services for everyone, we have created a link on our website's homepage called "Watch PRCC online".  By following this link, you will be directed to our online worship services which will begin at 8:30 am and 10:30 am sharp on Sundays! This link is different than our YouTube page. The configuration of our service on this link has been optimized for our Sunday worship experience. You will be able to engage in "live chat" with one of our "online hosts;" you'll be able to search and read the bible, and you'll be able to take notes and email yourself a copy of the notes all while watching the service! You may have to create a free account profile to access some of these features so be sure to log on early! (If you prefer to simply watch the service, you may still access the service via our YouTube page — www.youtube.com/pasoroblescommunitychurch and click on Sunday's service date [ie March 22, 2020]). 
Until we clarify an online platform for group meetings, please take advantage of the online media vault that is already at our disposal. It's called Right Now Media. Right Now has been called the "Netflix for Christian Study." There are literally hundreds of videos for both teaching and entertainment. This can be especially good for our young parents looking for quality "screen time" material for their children. The best part, it's FREE! You have to have an account to access Right Now Media but you can create your personal account by accessing our website (www.pasochurch.com) and going to "Media" then "RightNow Media" then at the bottom of the page, click "Register Now." Be sure to remember your login information because you'll be asked to sign-in, but once you're in, you're in! Enjoy all the material "Right Now" has to offer!
Additionally, our Children's Ministry team is working hard with our curriculum supplier to create an online learning experience available for our children. As soon as this is finalized, we will get the information to you as well.
Finally, many of you have asked about online giving. We are currently reviewing several online giving options and App developments for the church. Until then, we do have a Venmo Account set up for Paso Robles Community Church for those of you familiar and comfortable using Venmo. To use Venmo, download the Venmo App from the App Store, follow the install directions, search for Paso Robles Community Church 
Update: March 17, 2020
To facilitate health and family during this pandemic, here are several action steps we are taking:
(a) Instituting a CARE-chain. We are encouraging EVERYONE at PRCC to be responsible for everyone at PRCC. What this means is we are encouraging you to pick up a church directory and find your name and the name of the family just below your name. That family is "your CARE responsibility." What this entails is 2-3 times per week, call that family and check in with them. Call and say: 
"Hi, my name is (provide your name), and I'm calling as part of PRCC's Care-Chain. We realize there's a lot of stress associated with the coronavirus right now and that some of our family may need assistance, so I'm just calling checking in to see if there is anything you might need." 
After the call, if there is an urgent need, please email (office@pasochurch.com) or call (805.239.4771) the church office to let us know so we can facilitate the meeting of that need.  
If you would like to participate and we don't have your current information, please provide us your information ASAP. We will have updated Church Directories available this week in the office. They will be available this Sunday and we can deliver or mail them if you would prefer; just let us know!  Our prayer is that God will use this time as a time of encouragement and strength for our family.
(b) Text Updates. For immediate updates, we can text the congregation provided we have your current, text-abled phone number. If you would like to receive texts, please email your phone number to us in the office: office@pasochurch.com 
(c) Daily Encouragement & Lastest Information Posts. As we move forward, we understand the situation with the coronavirus (covid-19) will be very fluid so we will try to keep everyone posted as to PRCC's response as frequently as possible. Right now, the best way to do that is through our website so be sure to check it often. We are working to create a section on our front-page specifically highlighting latest postponements, cancellations, and service changes. In addition, there will be space for any who are interested, to share the positive and encouraging word the Lord has spoken to you through personal and corporate times with Him. With so many people experiencing heightened anxiety because of conversations pivoting around coronavirus, what better response for Followers of Jesus than to focus on Jesus so we may better "let our light shine before others, so they may see our good deeds and glorify our father in heaven."  Maybe we'll call this section S.E.E. (Spotlight of Everyday Encouragement, based on Matthew 5:16).   
If you'd like to contribute to this section, please send an email to Pastor Shawn at shawn@pasochurch.com. 
(d) Online Giving. Based on multiple requests, we are working this week to set up online giving. As soon as this is available, we will let you know (posting online, then text, then email). 
(e) Health & Immune-System strengthening. We offered several suggestions last Sunday on ways to build our immune systems because we believe that strong immune systems will be a key factor in facing this pandemic. We will continue to provide ideas and resources over the next few weeks. Please be sure to take advantage of these resources!
As we travel this unknown path together, let us continue to love God and love our neighbor as ourselves!
His for the Adventure!
– Pastor Shawn
Update: March 13, 2020_11:30 a.m.
We will be having both our 8:30 & 10:30 a.m. worship services on Sunday and we will be serving Communion. In agreement with Governor Newsom's declaration, we will limit seating to 120 in each service to provide the six (6) feet of social distance.
As a Church, here is what we are preparing to do:
Practice "Social Distancing" as much as possible. Isolation is not healthy emotionally, relationally or spiritually as a longterm strategy. So when you arrive at church Sunday, strive to minimize hand-to-hand contact. When you do greet someone, let's refrain from the "handshake" and try a fist-bump, an elbow-tap ("chicken wing") or toe-tap!
Sanitize. There are three (3) automated hand sanitizing stations in the church. Please feel free to use them. If they run out, use soap and water in the bathrooms. For a tutorial on proper hand washing technique, check out this video on hand washing. We will sanitize door handles and frequently used surfaces before and after each service as well as have our Greeters  open and close the main doors so as to minimize common touch-points.
Bulletins & Handouts. We distribute bulletins hand-to-hand but be assured, our Greeters are being asked to wash/sanitize their hands before picking up the bulletins to distribute. If you'd rather not receive a bulletin, please politely say "No thank you."
Communion. We are serving communion this Sunday. To minimize "touching" we will have 2-3 communion tables set in the worship center with two different styles of communion elements available at each table. There will be the "Classic" matzo bread and cup and there will be a "self-contained" juice and wafer cup. The "Classic" bread will be in a tray that one of our Elders will serve to you with a tong. The "self-contained" juice and wafer cup has both the wafer and the cup enclosed with a cellophane-type wrap that you will have to individually open.
We will livestream both our 8:30 and 10:30 Sunday services. To view the stream, go to our YouTube page (www.youtube.com/pasoroblescommunitychurch) and click on the Service time. The video of the message will be available online on our YouTube page by 1pm.
As you prepare for this weekend, we ask you to:
Pray. Pray for healing. Pray the Lord will turn our country's fear to faith in Jesus! Let's also pray for the doctors and medical researchers who are working to create a vaccine for this virus and care for those affected. Let's pray for our leaders in office, including the President, Vice President, governors, and local officials as they guide us through this moment. And let's we pray especially for those who are elderly or infirm, for whom this virus could be a matter of life and death.
Feel free to stay home. If you are not feeling well or are sick and feel it is necessary to stay home, then please do so.
Cover Up. If you have to sneeze or cough, please cover with a tissue.
Our prayer is that with our vigilance, the Holy Spirit's peace, and a whole lot of God's love, Jesus will be made known throughout our community!
As we begin preparing to Re-Open our Church, there are several things we know we need. Please pray about helping us fulfill these needs and re-open PRCC!
Deep Clean of PRCC facility
Establishment of Host-Sites capable of hosting 10 people (Phase 1 in reopening will include House Viewing Parties with Groups of 10 meeting to watch, interact, discuss Sunday's simulcast service).
Creation/Purchase of masks, gloves, hand-sanitizer that will be available for attendees.
Team Members willing to serve as Door-Openers and Facility-Sanitizers (cleaning and disinfecting) before, during, and after each service.
Team Members who are able to set and reset our Worship Center based on social-distancing requirements (Phase 2 of our reopening will be live, onsite services limited to social-distancing appropriate numbers; most likely 50 at a time, per service.)